Brochures are nothing, but printed book of information that is used to promote a business operation alongside providing the basic knowledge about the services of the particular business organization. Usually, these great handouts enable the business house make deals with international clients and capturing the market base. Brochure printing, as a task has achieved great heights since, the key to good marketing lies in holding onto the appeal of both the target audience and client. Designing the brochure effectively is solely restricted on your imagination and creativity.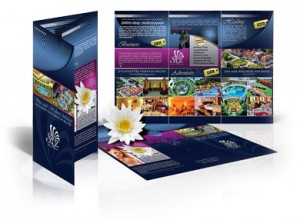 While designing a brochure, you can consider hiring a professional graphic designer for obtaining that enhanced touch or you can consider relying upon the DIY guide to save on the expenses, provided you have the software and the necessary expertise. The designing of a brochure must ensure a good print and therefore, careful eye to the details must be offered while indulging in the brochure printing process. Ensuring perfect print size stand as a priority in the first step of printing a brochure since, the error tends to be more in this step. The brochure size should always perfectly match the output size of the printer.
An unmatched brochure size to that of the printer can affect the quality of the resolution. Keeping the resolution issue in mind, you must always focus on integrating higher quality images on your brochure to bring out a good print. Images of low quality tend to have a blurry effect with jagged edges. Maintaining a good resolution is essential, as it also affects the text. To ensure a good print, you must also make certain of using quality papers on your brochure. Since, the brochure plays an undeniable role in impressing your clients and expanding your business, brochure printing must be offered good care.
Tags: Brochure Printing